This book details a single day in the life of Ivan Denisovich, a prisoner accused of spying and serving tens years in a Soviet labor camp. My major takeaways? Life can be ridiculously difficult sometimes, and even with a seemingly bleak future the average person wants to struggle on and see another day. Hard/quality work is something to enjoy and take pride in regardless of compensation. It's actually not that cold in Tulsa right now. I'm relieved I'm not in a labor camp.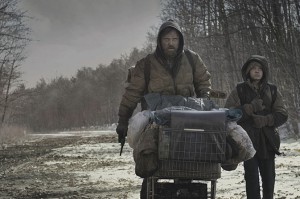 My faithful readers, if you have not read Cormac McCarthy's The Road then you should know that I hate you. I'll never say it to your face, but I do hate you. Go buy it and read it immediately. It will only take you a day to read, and then I won't be forced to hate you anymore. Not to mention it's brilliant.
Further motivation: the story will be hitting the big screen next year.
If you aren't a Palahniuk fan, chances are you can't read. Though, I must admit I have to look up his last name every time I go to type it. Survivor presents the first person story of a celebrity religious leader, told via the little black box of a plane on its way to a watery grave. Chuck Palahniuk (sp?) on religion, sex, and murder. What's not to like?
For those of you in the Tulsa area, author David Sedaris will be signing his new book, When You Are Engulfed in Flames, at the B&N at 5231 E 41st St tomorrow night (Friday, June 20th) starting at 7 PM. I haven't read any of his books yet, but sources I trust tell me they are hilarious. Previous titles include Me Talk Pretty One Day and Dress Your Family in Corduroy and Denim.