Homeless Exodus?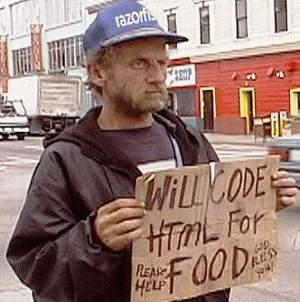 I went to the Soundpony for trivia night on Tuesday. It was a good time, if you could stand the stench of the resident homeless guy. This guy was moving around the place like a social butterfly, and you could smell him from about 15 feet away… no exaggeration.
Somewhat related, twice in the last week I've received emails asking me to vote for the new Chicken of the Sea jingle (chicken on the land! fish in the sea!). Apparently, a lady from Broken Arrow is doing quite well in the voting, and if she wins the local food bank gets an entire truck full of Chicken of the Sea tuna. Seems like a good thing, right? Wrong.
Here's the deal. Homeless people are better connected than ever. The homeless guy at the Soundpony was talking it up on a cell phone all night, presumably to his homeless friends. If a huge supply of Tuna arrives in Tulsa, he's going to call all of his out-of-town homeless peeps, and within a matter of days Tulsa will be overrun by homeless people looking for a free can of tuna. Bad news right?
Here's the plan. I suggest you vote for a jingle in Dallas. Once the contest is over, we'll make a flier to distribute to the local homeless population informing them of this tuna windfall in the not so far off land of Dallas. Said flier will even have a map with large truck stops along the way marked for their convenience. When all is said and done, I'll be able to enjoy trivia night without violently offending my sense of smell. Now go vote!